Random Things Today
1. I am wearing my favorite purple scarf.....
2. With my brand new Eeyore socks. :)
3. Today was the last day of my first full week of full time public school. (Before we had only had a four day week and before that a two day week).
4. The weather finally started cooling down today. Earlier this week it was 70-something degrees and today it's about 55 degrees. :)
5. In chorus at school we are singing
this song
and
this song
and I love them. I can't wait to perform them!
6. My little sisters are adorable. Enough said.
Sadie, Natalia, and Chloe. You may remember Chloe from my last post.
7. Note to self: I really should put up a page of just my siblings so if I reference them, you can go and see who they are.
8. We made smoothies at school today in a home ec. class. My group's smoothie still had little chunks of ice in it. Whoops!
9. I made these things called Cinnamon Balls the other day. Next time I make them I'll try and take pictures and put up the recipe. I got the recipe from a past issue of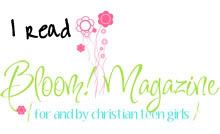 which is a great magazine for Christian girls that you should check out and subscribe to because it's really good.
So, that's my randomness for the day. :)
Did you enjoy my ramblings?
Have a good day!